TUBUS 60 cm for the protection of grape wine
INDIVIDUAL PROTECTION OF PLANTS AGAINST BROWSING BY GAME, WEEDS AND KNOCKOUT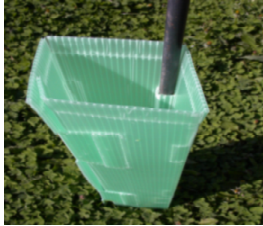 We offer you a new Czech product Tubus 60 cm. The Tubus is made of a special double polypropylene foil of light green colour, which reduces the effects of UV radiation and so protects the plants against sunburn. The Tubus 60 cm is suitable especially for the protection of grape wine plants. The plant in the Tubus is well protected and grows more quickly. Tubus 60 cm is put quickly on a plant either already folded, or it is wrapped around a plant and afterwards hinges pressed in the Tubus are snapped. An iron bar is slid through pressed latchets and then it is stuck into ground in order to fasten the Tubus in vertical position. In this way, the plant is protected against negative factors. When the protecting function is fulfilled, the Tubus is disjointed and can be repeatedly applied to another plant.
WE PRODUCE
height 60 cm, section 7,75 x 7,75 cm
The goods are supplied on pallets, each package contains 50 pieces. We provide transportation to customers.
ADVANTAGES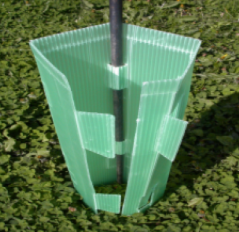 it guarantees perfect protection against browsing by game
accelerated growth of plants in the Tubus thanks to more favourable microclimate
the plants do not get burnt
material used reduces the effects of UV radiation
quick installation of the Tubus
delivery directly from its producer
disjoining system of the Tubus enables harmless removal and its repeated use